Multidimensional record of time and space.
Audiovisual Artwork | VR | NFT
Audiovisual project that is built from the study of a specific location through the evaluation of the elements that make up the beauty of a place. LOCAL – a mutable artwork that we like to use as a medium to explore and document the essence of the places where we are circumstantially present as a record of our time-space journey as human beings and artists.
–
Planet Earth
2019 – [ … ]
CHAPTERS
Detrás de lo Real
MX – 2019

Un Château Éphémère
FR – 2022
To describe the experience of a journey we could easily name and list the things and places that were part of the moment, but if we really want to express those thoughts that come to us as we walk slowly, observing at every step, trying not to miss anything, trying to feel the differences along the way we would not find the precise words. Not because it is necessary to invent more words but because the understanding of what we seek to express is simply freer than that.
Mexico City, where it all begins.
Much is said about it, everything is true: the good, the bad, the intermediate. This is meant to be the longest chapter of all, and yet it is the most incomplete. Maybe because it's complicated to express about yourself, maybe because you don't get used to it.
The audiovisual images generated from this idea that we call home are not enough to describe it, but they illustrate details of the moments in which we stop and observe, what is proper to us in this surreal chaos of which we consider ourselves local.
Château Éphémère has been the beginning of this project outside the roots. And it was a great discovery for us to really know what we were looking for, not in terms of audiovisual compositions but conceptually. During our stay it has become more clear to us that LOCAL is not to describe the idea of a politically defined place like Poissy, Paris or Nantes or even France or the Vanderbilt Castle itself, but to describe the entity, what is LOCAL to the Château Éphémère, what is proper to it.
Its people, their habits, their images and sounds.
As soon as we arrive everything is new, everything we live from the first day is a new experience that turns each breath into an input of fresh knowledge, ready to be assimilated.
Since we are not familiar with anything here, the whole experience is already abstract, very powerful.
We have found a heat that we did not expect, an intense sun but different from the one we know. Quiet paths, small urban developments that coexist with nature, giant urban developments that are icons of globalization. Intense and minimalist flavors. Then rain and cold that we did expect. A huge sky that can be seen from anywhere.
The language barrier makes us shy and makes those around us shy but it does not prevent us from connecting. We were wrong many times, but it was ok.
The experience has been simplement magnifique!
Un Château Éphémère
Audiovisual Installation | VR Installation
Developed as part of the Chateau Ephemere artist residency program: Arts Numériques, Art Sonore & Nouvelles Écritures 20_21.
Poissy, France – 2022
Read the complete chronicle here.
L'observatoire [ Poissy ]
Rendez-vous à la gare [ Nantes ]
Un jardin, un après-midi. [ Paris ]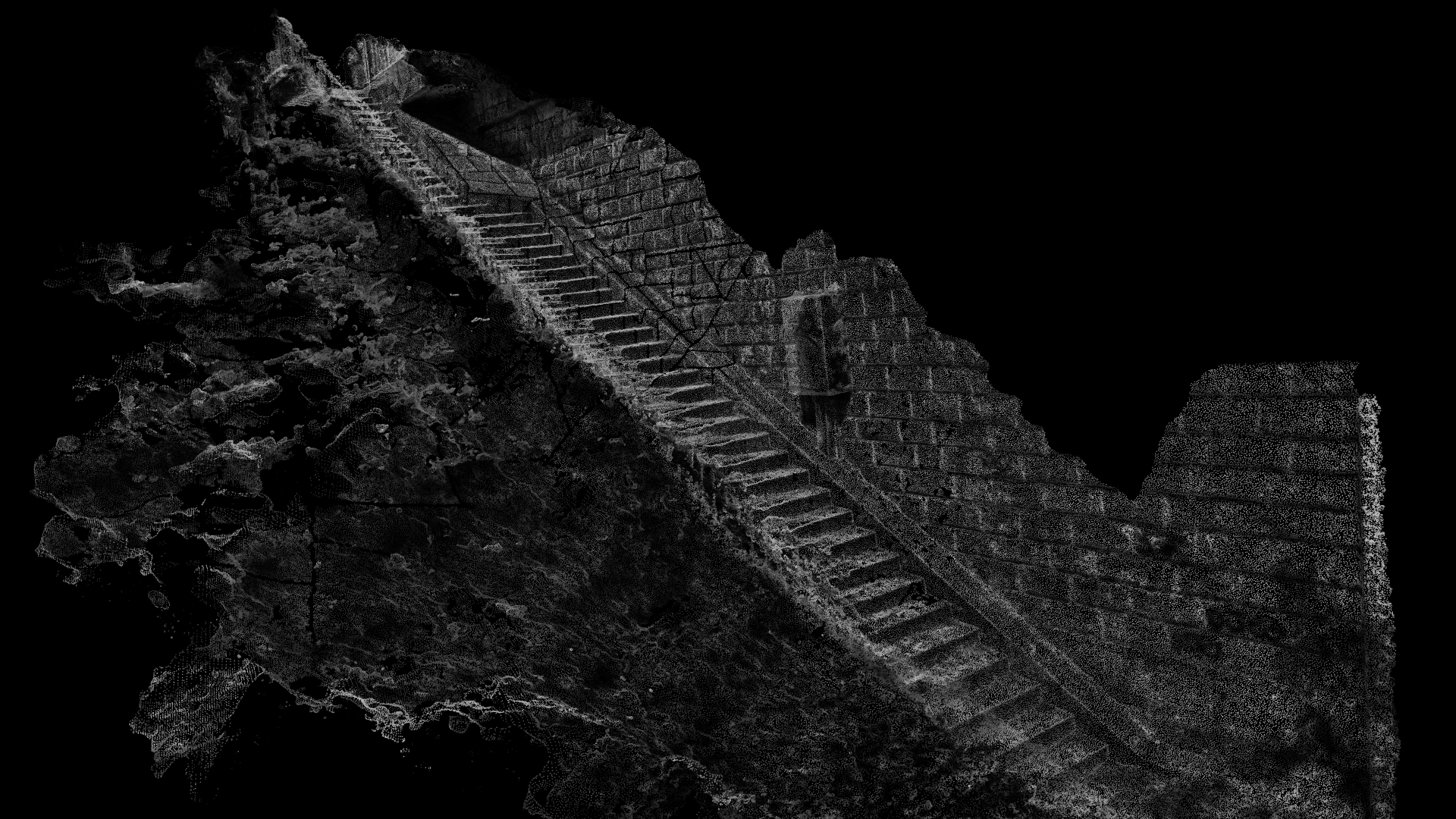 La nuit les vagues vont m'emporter. [ Poissy ]